Buy any 2+ ZymoPure II Kits and receive a free vacuum manifold CAT# S7000(ZY)
Tweet, Share, View all associated products with this promotion!

View a complete listing of all associated products with this promotion. Still need more help? Please contact customer service to relieve any additional questions you may have.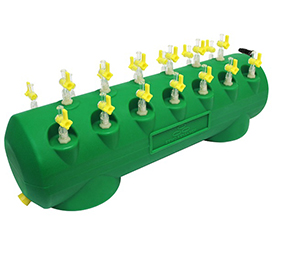 Ez-Vac™ Vacuum Manifold – Cat.# S7000(ZY)
The EZ-Vac™ Vacuum Manifold features durable chemical-resistant construction and is capable of processing up to 20 samples simultaneously using vacuum pressure. The vacuum manifold allows researchers to simplify their nucleic acid purification workflows further by eliminating the need for multiple centrifugation steps and disposal of flow-through from collection tubes. The One-Way Luer-lock Stopcocks are compatible with most Zymo Research spin-columns and individually controlled, allowing users to process as little as one sample at a time. Furthermore, the extra-large waste reservoir makes the EZ-Vac™ Vacuum Manifold ideal and convenient for protocols that require large volumes to be processed.
Rapidly process up to 20 samples without the need for repeated centrifugation steps

Compatible with many of Zymo Research's spin-column based nucleic acid purification kits

Unique design accommodates large processing volumes easily
Endless possibilities, What will you create?
ZymoPURE II – Plasmid Purification Reinvented
ZymoPURE II is plasmid purification reinvented. At the core of our ZymoPURE II technology is a novel binding chemistry and membrane that redefines plasmid purity, reduces processing time by 7 fold, and enables > 1 mg of plasmid to be eluted from a microcentrifuge column.
Elution means Elution
Tired of performing tedious alcohol precipitations? With ZymoPURE II, the plasmid DNA is bound onto a spin-column and all of the contaminants are washed away prior to eluting in a microcentrifuge. The resulting eluate is transfection-ready and highly concentrated, so there is no need to remove salts and concentrate the plasmid after elution. Be confident in your elution with ZymoPURE.
Good-bye Gravity Flow
Say farewell to the drip. Your time is valuable, so why spend it waiting for gravity? With ZymoPURE II, the plasmid DNA is bound onto a spin-column in mere seconds using a vacuum manifold or centrifuge, which completely eliminates the need for slow gravity flow columns.
Cited for Sensitive Techniques
Transfection

Lentivirus Production

shRNA

siRNA

CRISPR

PCR

Sequencing

And many more
Click here for a complete list of ZymoPURE II Kits.
Have questions? Need more information? Contact us at tech@cedarlanelabs.com to have all your questions answered in a timely and professional manner.
Note: This offer is not valid in conjunction with contract discounts or any other special pricing. Void where prohibited.