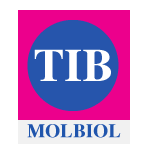 Search Tib Molbiol L.L.C. Products
Tib Molbiol L.L.C. Products
Since 1990, TIB MOLBIOL has been providing custom synthesis of oligonucleotides to a growing number of customers worldwide. Our products are used in the fields of life science research, medical diagnostics, product quality assessment and environmental analysis. Being one of the first suppliers of synthetic DNA in Europe, we have not only set standards of quality and service, but continue to lead in fulfilling your demanding requirements for high quality products and services.

The potential of Real-Time PCR was recognized by TIB Molbiol immediately upon its introduction in 1997. The company focused on this new technology by researching new application approaches and experimenting with different technical formats.

In 1998 Boehringer Mannheim (now Roche) introduced the LightCycler® Real-Time PCR Instrument. Based on the novel detection format of HybProbes and an innovative thermal cycling technology, the instrument revolutionized Real-Time PCR not only by speeding up the process but also by the versatility of possible experimental applications. TIB Molbiol embraced the new chemistry of HybProbes and embarked with Boehringer Mannheim in a mutual effort to increase the application scope and attractiveness of the instrument.
No promotions are being offered by this supplier right now
Still Need More Help?
If you have sales questions relative to particular products or to your line of research, please contact the CEDARLANE® sales department and have all of your questions answered in a timely and professional manner.