PURCHASE OVER $250 WORTH OF BIOLEGEND NEUROSCIENCE PRODUCTS AND RECEIVE A FREE T-SHIRT. WHILE SUPPLIES LAST.
Tweet, Share, View all associated products with this promotion!

View a complete listing of all associated products with this promotion. Still need more help? Please contact customer service to relieve any additional questions you may have.


Get Your 'Rock the Synapse' T-Shirt Today!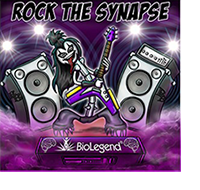 BioLegend develops world-class, cutting-edge antibodies and reagents for biomedical research, manufactured in our state-of-the-art facility in San Diego, CA. Our mission is to accelerate research and discovery by providing the highest quality products at an outstanding value, along with superior customer service and technical support.
Unlocking the biology of the brain is a research imperative that has garnered much attention from public and private entities in recent years. For example, the BRAIN Initiative and EU Initiative (humanbrainproject.eu) are focused on innovative research and technology that increases our understanding of the brain. Neurodegenerative diseases already constitute a public health and economic crisis, and as the population ages, the urgent need for better treatments for these diseases is intensified. With the acquisition of the Covance antibody product portfolio, BioLegend signaled its commitment to enabling legendary discovery within the neuroscience research community. BioLegend is making further investments in the portfolio, becoming a leading provider of reagents known for quality and innovation, and helping scientists advance the understanding of brain biology, interrogate their pathways, and identify potential biomarkers that may improve the success of clinical programs for neurodegenerative diseases.
Click here to browse all Neuroscience products.
Have questions? Need more information? Contact us at tech@cedarlanelabs.com to have all your questions answered in a timely and professional manner.
Note: This offer is not valid in conjunction with contract discounts or any other special pricing. Void where prohibited.