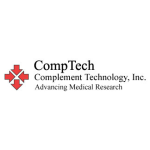 Search Complement Technology, Inc Products
Complement Technology, Inc Products
Complement Technology, Inc. (CompTech)

is dedicated to supplying the biomedical research community with the highest quality complement reagents. The owners and staff at CompTech have the combined experience of more than 80 years in the complement field. We are the original manufacturer of the complement reagents we sell and we try to be the lowest cost supplier of the highest quality reagents available. We are constantly expanding the line of reagents we make to meet the changing needs of research. We welcome suggestions for new reagents you need.
No promotions are being offered by this supplier right now
Still Need More Help?
If you have sales questions relative to particular products or to your line of research, please contact the CEDARLANE® sales department and have all of your questions answered in a timely and professional manner.