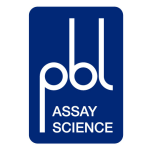 Search PBL Assay Science. Products
PBL Assay Science. Products
Primary Product Categories

Singleplex ELISAs

Interferons

Cytokines

Monoclonal and Polyclonal Antibodies

Multiplex ELISAs
From a visionary start-up to a trusted, premier resource for Interferon and Cytokine researchers, PBL Assay Science has proudly provided high quality research-grade products to the scientific community for over three decades. With offerings including highly-specific ELISAs for sensitive detection of both common and lesser known analytes of various species and subtypes, highly active IFN proteins, and application targeted Anti-IFN antibodies, our products have a consistent reputation for providing accurate and reliable results
No promotions are being offered by this supplier right now
Featured Downloadable Resources

PBL Assay Science publishes supplemental informative material and relevant research for its various product lines and groups.
Still Need More Help?
If you have sales questions relative to particular products or to your line of research, please contact the CEDARLANE® sales department and have all of your questions answered in a timely and professional manner.