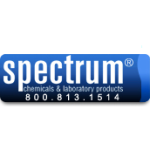 Search Spectrum Laboratory Prod. Inc. Products
Spectrum Laboratory Prod. Inc. Products
Founded in 1971 as a fine chemical manufacturer, Spectrum Chemicals & Laboratory Products, a division of Spectrum Chemical Mfg. Corp., has grown into a customer-focused global supplier of high quality chemicals, laboratory supplies and equipment. All our U.S. facilities are ISO 9001:2008 certified. The California and New Jersey plants are also FDA registered drug establishments and operate under current Good Manufacturing Practices (cGMP).

Spectrum has been an ISO 9000 certified company since 1994. The adoption of the ISO International Quality Management Standards provides the foundation for the development of Spectrum's entire line of product offerings. When purchasing from Spectrum, customers can be assured of quality, safety and reliability.

ISO 9001:2008 is a "quality management" system that enhances customer satisfaction by assuring compliance with customer and applicable regulatory requirements. Continual improvement is an integral and fundamental part of the ISO 9001:2008 standard. Internationally accredited external auditors continually re-certify our quality system every six months. In addition, Spectrum's internal teams audit the system in the intervals between outside audits to further strengthen our quality management system.

Quality is the single most important factor when purchasing fine chemicals and intermediates. That's why we make quality the number one priority at Spectrum.

Chemicals entering our Integrated Quality system are subject to a stringent program of in-house testing to ensure that they meet our own high quality standards.
No promotions are being offered by this supplier right now
Still Need More Help?
If you have sales questions relative to particular products or to your line of research, please contact the CEDARLANE® sales department and have all of your questions answered in a timely and professional manner.